Discover "Reel" personal heating and cooling services
Since 1925 our family has delivered compassionate service to Union County homeowners just like you. Count on us to stand on our 100% satisfaction guarantee. Call us any time for expert maintanance that saves you money – we value our customers and strive to deliver impeccable services.
Learn more about our HVAC options
What is your service area?
We are centrally located in Cranford, NJ. We offer maintenance, protection, oil delivery, and 24-hour emergency service to all towns within Union County.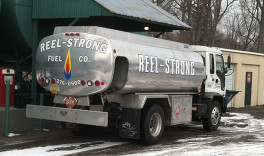 What is the ProGuard Environmental and Tank Protection Program?
It is an environmental cleanup program we offer that will provide $100,000 for clean up costs and $1,400 for a new storage tank if your existing tank accidentally leaks.Learn more about this program.
What steps can I follow if I have trouble getting heat before calling for emergency service?
1. See if the oil burner switch is on. 2. Check your thermostat. Make sure that it's set above room temperature. 3. Check fuses and/or circuit breakers. 4. Check your oil tank to see if you have fuel. 5. Press the reset button on the burner relay once only 6. If, after these steps, your heating system still hasn't come on, call Reel-Strong . Learn more about heating oil.
Is it possible for me to purchase an Aprilaire Humidifier at a retail outlet?
Aprilaire Humidifiers are sold exclusively through heating and cooling contractors like us. We are professionally trained and ready to help you choose the right model, have it installed correctly, answer any questions you may have, and perform expert maintenance.Learn more about automatic humidifiers.
Do I need a special kind of heating or cooling system to accommodate an Aprilaire Whole House Air Cleaner?